Roasted pears with honey & walnut syrup
Roasted pears with honey & walnut syrup
Prep 20 mins | Cook 30 mins | Serves 4
4 Beurre Bosc pears 
3 tbs butter
1⁄4 tsp ground cinnamon
2 tbs caster sugar
1⁄3 cup walnuts, roughly chopped
1⁄4 cup honey
Reduced fat Greek-style yoghurt or vanilla ice-cream, to serve
Step 1 Preheat oven to 200°C/180°C. Peel, core and quarter pears lengthways. Place pears into a medium non-stick baking pan. 
Step 2 Place 2 tbs butter in a heatproof bowl. Microwave on high/100% power 45 seconds or until melted. Stir in cinnamon. Drizzle butter mixture over pears and sprinkle with sugar. Gently toss pears to coat in butter mixture and sugar. Roast pears, turning occasionally, for 25-30 minutes or until just tender. Set aside to cool slightly.
Step 3 Meanwhile, heat a small frying pan over medium-low heat. Add remaining 1 tbs butter and heat until bubbling. Add walnuts and cook, stirring often, for 1-2 minutes or until golden (do not allow butter to burn). Remove from heat and stir in honey. 
Step 4 Place warm pears in serving bowls. Drizzle with warm honey and walnut syrup and serve with yoghurt or vanilla ice-cream.
Good for you ...
Beurre Bosc Pears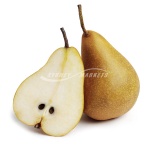 A good source of dietary fibre which contributes to normal laxation.
Provide vitamin C, which contributes to the normal functioning of the body's immune system.
Pears have a low GI (33-41), which means their natural sugars are broken down slowly for absorption into the bloodstream.