Roasted pears with Florentine cream
Roasted pears with Florentine cream
Prep 20 mins | Cook 45 mins | Serves 6
1 cup water
1 cup caster sugar
1 tsp vanilla bean paste or extract
6 firm Beurre Bosc pears
300ml thickened cream
1 tbs icing sugar
150g Florentine biscuits*, roughly chopped
*Buy Florentine biscuits at bakeries and some supermarkets. Size varies – it's about 3-4 biscuits.
STEP 1 Combine water, sugar and vanilla in a small saucepan over medium heat. Stir until sugar dissolves. Bring to the boil, reduce heat and simmer for 5 minutes.
STEP 2 Preheat oven to 180°C/160°C fan-forced. Peel, halve and core pears. Arrange in a single layer in a large baking dish. Pour hot sugar syrup over pears. Cover with foil, seal edges and bake, turning once, for 35-40 minutes until tender. Remove pears from oven, uncover and set aside to cool for 30 minutes. Transfer the syrup to a jug.
STEP 3 Place cream and icing sugar in a medium bowl and whip until soft peaks form. Swirl through chopped biscuits. Refrigerate until ready to serve. Serve pears with Florentine cream and drizzle with the syrup.
Good for you ...
Beurre Bosc Pears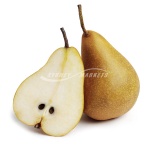 A good source of dietary fibre which contributes to normal laxation.
Provide vitamin C, which contributes to the normal functioning of the body's immune system.
Pears have a low GI (33-41), which means their natural sugars are broken down slowly for absorption into the bloodstream.