Roasted pear, fennel & Serrano ham salad
Roasted pear, fennel & Serrano ham salad
Prep 20 mins | Cook 35-40 mins | Serves 4
4 firm Packham pears, quartered lengthways and cored
1 tbs extra virgin olive oil + extra for drizzling
1 tbs honey
1 tbs caramelised balsamic vinegar
5 thyme sprigs
2 baby fennel bulbs, trimmed
12 thin slices Serrano ham (or use prosciutto)
125g soft goat's cheese, crumbled
Step 1 Preheat oven to 200°C/180°C fan-forced. Line a roasting pan with baking paper. Arrange pears flesh-side up in the roasting pan. Drizzle with oil, honey and balsamic vinegar and sprinkle with thyme. Season with salt and pepper. Toss pears to coat. Roast pears for 35-40 minutes, tossing occasionally, or until pears are just tender. Remove from heat and set aside to cool to room temperature.
Step 2 Using a V-slicer or sharp knife, very thinly slice fennel and plunge into a bowl of iced water. Stand for 5 minutes then drain and pat dry.
Step 3 Arrange pears on serving plates. Top with fennel, serrano ham (or prosciutto) and goat's cheese. Drizzle with extra virgin olive oil and serve.
Good for you ...
Packham Pears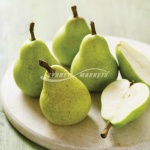 A good source of dietary fibre which contributes to normal laxation.
Provide vitamin C, which contributes to the normal functioning of the body's immune system.
Pears have a low GI (33-41), which means their natural sugars are broken down slowly for absorption into the bloodstream.