Roasted parsnips, pears and leek
Roasted parsnips, pears and leek
Prep 20 mins | Cook 30 mins | Serves 4
This delicious combination of roasted parsnips, pears and leek teams really well with roast pork or chicken.
750g medium parsnips, peeled, halved lengthways and cut into chunky pieces
2 firm Beurre Bosc pears, peeled, cut into eighths lengthways and cored
1 leek, trimmed, halved lengthways and cut into 2cm-thick slices
250ml olive oil
2 tbs caramelized balsamic vinegar
Salt and ground black pepper
Step 1 Preheat oven to 200°C/180°C fan-forced. Line a large roasting pan with non-stick baking paper, allowing 2-3cm baking paper to extend up the sides of the pan.
Step 2 Place parsnips, pears and leek in pan. Combine oil, vinegar and salt and pepper in a jug. Whisk to combine. Drizzle mixture over vegetables and toss to coat in mixture. Roast for 15 minutes. Toss and roast for a further 10 minutes. Increase temperature to 220°C/180°C fan-forced and roast for 5-10 minutes or until golden and serve.
Good for you ...
Parsnips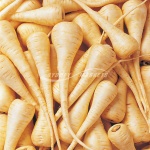 A good source of dietary fibre which helps keep the intestine functioning.
A source of potassium, which can help balance sodium from salt in our diets.
Provides vitamin C, which contributes to the normal functioning of our immune systemand also niacin (vitamin B3) and biotin, another B vitamin, both of which are needed for the normal release of energy from food.