Roasted eggplant, capsicum & tomatoes
Roasted eggplant, capsicum & tomatoes
Prep 20 mins | Cook 35 mins | Serves 6
500g Lebanese or baby eggplants, trimmed
2 medium capsicums, halved and deseeded
3 garlic cloves, chopped
1⁄3 cup olive oil
400g tomato medley
1 cup thick Greek-style natural yoghurt
1 tbs tahini paste
1 tbs pomegranate molasses* (optional)
Small basil leaves and chopped flat-leaf parsley, to serve
Extra virgin olive oil, to serve
*Pomegranate molasses is a sweet thick syrup used in Middle Eastern cooking – it's available from delis and some greengrocers.
Step 1 Preheat oven to 220°C/200°C fan-forced. Roughly chop eggplants and capsicums into 4-5cm pieces and place into a large roasting pan. Sprinkle with garlic, drizzle with oil and season with salt and pepper. Gently toss to combine. Roast vegetables, tossing occasionally, for 20 minutes. Toss through tomatoes and roast for a further 10-15 minutes until vegetables are tender. Remove and set aside to cool slightly.
Step 2 Mix yoghurt and tahini in a bowl until well combined. Swirl through pomegranate molasses (if using).
Step 3 Sprinkle vegetables with basil and parsley. Drizzle with extra virgin olive oil and serve with the tahini yoghurt.
Good for you ...
Lebanese Eggplant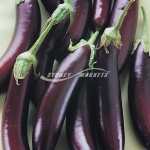 A good source of dietary fibre, which contributes to normal bowel function.
A good source of vitamin B6 that plays a role in hundreds of biochemical reactions in the body, including contributing to energy metabolism.
The purple skin is a rich source of antioxidants