Roasted eggplant, basil & feta spaghetti
Roasted eggplant, basil & feta spaghetti
Prep 15 mins | Cook 20 mins | Serves 4
400g medium eggplants, trimmed and cut into 1–2cm pieces
2 garlic cloves, finely chopped
1 onion, finely chopped
1⁄4 cup olive oil
250g cherry tomatoes
350g dried spaghetti
1⁄3 cup small basil leaves
75g feta cheese, crumbled
Step 1 Preheat oven to 220°C/200°C fan forced. Combine eggplants, garlic and onion and oil in a bowl. Season with salt and pepper and toss to combine. Place on a large baking tray. Roast for 20 minutes. Add tomatoes and roast for a further 8-10 minutes until tomatoes and eggplant is tender.
Step 2 Meanwhile, cook spaghetti in a large saucepan of boiling salted water following packet directions until tender. Drain and return to pan.
Step 3 Add eggplant mixture to spaghetti. Gently toss to combine over low heat. Season with salt and pepper to taste. Toss through basil. Spoon onto serving plates. Sprinkle with feta and toasted pine nuts and serve.
Good for you ...
Eggplant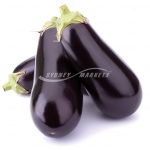 A good source of dietary fibre, which contributes to normal bowel function.
A good source of vitamin B6 that plays a role in hundreds of biochemical reactions in the body, including contributing to energy metabolism.
The purple skin is a rich source of antioxidants