Roasted chestnuts & Brussel sprouts with bacon and parmesan
Roasted chestnuts & Brussel sprouts with bacon and parmesan
Prep 30 mins | Cook 50 mins | Serves 4-6 as a side dish
400g plump chestnuts*
700g small Brussels sprouts, trimmed and quartered
125g smoked shortcut bacon, roughly chopped
2 tbs extra virgin olive oil
2 garlic cloves, finely chopped
1 tsp finely grated lemon zest
grated parmesan, to serve
Step 1 Preheat oven to 200°C/180°C fan-forced. Using a small sharp knife, cut a shallow cross into the flat side of the chestnut shells. Place into a heavy-based roasting pan. Roast for 20 minutes or until shells split open and chestnuts are tender. Transfer chestnuts onto a clean tea-towel, wrap and set aside for 10 minutes.
Step 2 Place Brussels sprouts and bacon into the roasting pan. Combine oil, garlic and lemon zest in a bowl and mix to combine. Drizzle oil mixture over Brussels sprouts and bacon. Toss to combine. Roast, tossing once, for 25-30 minutes until Brussel sprouts are tender and charred around the edges.
Step 3 While the sprouts are cooking, peel the chestnuts then remove the papery skin.
Step 4 Toss the chestnuts through the Brussels sprout mixture and roast for 5 minutes. Serve with grated parmesan.
*For ease, look for easy to peel chestnuts.
Good for you ...
Chestnut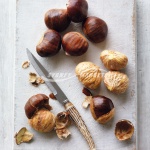 A source of vitamin C which contributes to the normal functioning of the body's immune system.
Provides some dietary fibre which helps the intestine function normally.
A source of potassium which may help balance the sodium from salt.