Roasted cherries to team with turkey or ham
Roasted cherries to team with turkey or ham
Prep 10 mins | Cook 12-15 mins | Serves 6-8
1 tbs caramelised balsamic vinegar
¼ cup red currant jelly
Pinch allspice
3-4 sprigs thyme
500g plump cherries
Step 1 Preheat oven to 200°C fan-forced. Combine vinegar, red currant jelly and allspice in a large bowl. Stir until well combined. Add thyme and cherries. Season with salt and pepper. Toss to combine and stand for 5 minutes.
Step 2 Transfer cherry mixture to a baking tray lined with baking paper. Roast for 12-15 minutes until cherries just soften. Remove from oven and stand for 15 minutes. Serve warm or at room temperature.
Good for you ...
Cherries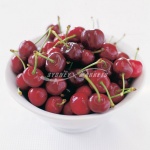 A good source of vitamin C. Among its many functions, vitamin C contributes to collagen which plays a role in healthy gums, teeth, bones, cartilage and skin.
Provide dietary fibre which helps the normal functioning of the intestine.
Cherries contain some antioxidants with the highest quantities found in fruit with darker-coloured flesh