Roasted carrots with honey & thyme
How to Make Roasted Carrots With Honey & Thyme – Sydney Markets
Prep 15 mins | Cook 30 mins | Serves 4
1 kg purple, yellow, orange and white heirloom carrots + Golfball* carrots
2 tbs olive oil
1 tbs honey
1 tsp ground cumin
2 garlic cloves, crushed
2 tbs thyme leaves
*New on the market, Golfball carrots are small and plump and sold by the bunch.
STEP 1 Preheat oven to 200°C/180°C fan-forced. Trim carrots, leaving about 3cm stem attached. Gently scrub carrots to clean, pat dry with paper towel. Combine oil, honey, cumin, garlic and thyme in a large mixing bowl. Season with salt and pepper. Add carrots and toss until well coated.
STEP 2 Arrange carrots in a single layer on a large baking tray or pan lined with baking paper. Roast carrots, tossing once, for 20-30 minutes (depending on size of carrots) until tender and serve.
Good for you ...
Heirloom Carrots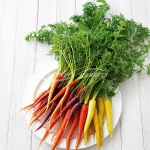 The old saying that carrots help you see in the dark is due to their high content of beta carotene, which the body converts to vitamin A and uses for normal vision.
A good source of vitamin C, one of the vitamins needed for the normal functioning of the immune system.
Provide dietary fibre, whether raw or cooked. Dietary fibre helps keep the intestine healthy.