Roasted carrot, Medjool date & feta salad
Roasted carrot, Medjool date & feta salad
Prep 20 mins | Cook 25 mins | Serves 4
700g trimmed mixed carrots*, peeled
1 tsp ground cumin
1 tsp ground coriander
2 tbs olive oil
8 Medjool dates, halved lengthways and seeded
½ cup mint leaves
½ cup coriander leaves
100g Greek feta cheese, crumbled
½ pomegranate, seeds removed (optional)
¼ cup toasted mixed seeds
Lemon wedges, to serve
Tahini yoghurt dressing
1 tbs tahini
⅓ cup Greek-style natural yoghurt
½ tsp ground cumin
2 tbs lemon juice
* Use of mixture of Dutch carrots and heirloom purple and yellow carrots. Halve any larger carrots lengthways.
Step 1 Line a large baking tray with baking paper. Combine cumin, coriander and oil in a jug. Mix to combine. Place carrots in a single layer on tray. Drizzle over cumin mixture, toss to coat. Roast, turning once, for 25-30 minutes until tender. Set aside to cool.
Step 2 Meanwhile, make tahini yoghurt dressing by combining all ingredients in a bowl. Chill until ready to serve.
Step 3 Arrange carrots, dates, mint and coriander on a serving tray. Sprinkle with feta, pomegranate (if using) and seeds. Season and serve with dressing.
Good for you ...
Dutch Carrots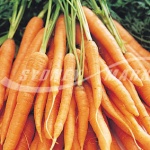 The old saying that carrots help you see in the dark is due to their high content of beta carotene, which the body converts to vitamin A and uses for normal vision.
A good source of vitamin C, one of the vitamins needed for the normal functioning of the immune system.
Provide dietary fibre, whether raw or cooked. Dietary fibre helps keep the intestine healthy.