Roasted capsicums with tomatoes & feta
Roasted capsicums with tomatoes & feta
Prep 25 mins | Cook 45 mins | Serves 4-8
Serve as a side dish or for a light vegetarian meal serve with a leafy green salad.
250g pkt quick-cook brown rice and quinoa*
4 plump capsicums (choose a selection of red, yellow & orange)
250g grape or mini-roma tomatoes, quartered
½ cup flat-leaf parsley, chopped
100g Greek feta cheese, crumbled
⅓ cup toasted pine nuts
1 garlic clove, finely chopped
1 tbs lemon juice
½ tsp ground cumin
2 tbs extra virgin olive oil + extra to serve
Olive oil cooking spray
Rocket leaves, extra virgin olive oil and greek-style natural yoghurt, to serve
*quick-cook rice and quinoa is cooked in its packet in the microwave. It's available in most supermarkets
Step 1 Cook the rice and quinoa following packet directions. Place into a large bowl and set aside to cool.
Step 2 Preheat oven to 200°C/180°C fan-forced. Halve capsicums lengthways, remove all pith and seeds. Place onto a large baking tray lined with baking paper.
Step 3 Add tomatoes, parsley, feta and pine nuts to cooled rice and quinoa. Combine garlic, lemon juice, cumin and oil in a bowl. Season with pepper and whisk to combine. Drizzle over rice mixture and toss to combine.
Step 4 Spoon rice mixture into capsicums, pressing filling into each halve. Spray with oil. Roast for 40-45 minutes until capsicums are tender. Serve warm or at room temperature. Just before serving, scatter with rocket leaves, drizzle with extra virgin olive oil and serve with yoghurt.
Good for you ...
Capsicums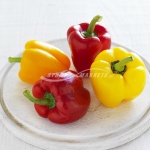 A top source of vitamin C, with just half an average-sized red capsicum supplying 4 times the recommended dietary intake of this important vitamin.
A good source of beta carotene, which the body converts to vitamin A and uses for normal functioning of the immune system.
Provides niacin (vitamin B3), which the body's cells need for the normal release of energy from food.