Roasted beetroot soup
Prep 30 mins | Cook 11⁄4 hrs | Serves 4-6
4 trimmed medium beetroot* (about 650g)
2 tbs olive oil
2 leeks, trimmed, halved lengthways and thinly sliced
400g potatoes, peeled and chopped
3 garlic cloves, finely chopped
5 cups chicken or vegetable stock
Reduced fat sour cream and snipped chives, to serve
*trim beets leaving about 5-6cm stalks and the root attached
Step 1 Preheat oven to 180°C/160°C fan-forced. Individually wrap beets in foil and place onto a baking tray. Roast for 50-60 minutes or until just tender when tested with a skewer. Carefully remove foil, set beets aside to cool. Wearing rubber gloves, peel beets then roughly chop and set aside.
Step 2 Heat oil in a large saucepan over medium heat. Add leeks, potatoes and garlic and cook, stirring occasionally, for 4-5 minutes until leeks are just tender. Add beetroot and stock, cover and bring to the boil. Reduce heat to low and simmer, stirring occasionally, for 20 minutes or until potatoes are tender.
Step 3 Using a hand blender, blend soup until smooth. Season with salt and pepper to taste. Warm soup over low heat. Ladle into serving bowls. Swirl a dollop of sour cream through each, sprinkle with chives and serve.
Good for you ...
Red Beetroot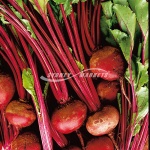 A good source of folate, a B vitamin that contributes to normal growth and development in children as well as the formation of blood cells. One medium beetroot provides about half an average adult's recommended dietary intake of folate.
The purple pigments in beetroot, known as anthocyanins may act as antioxidants.
Provide dietary fibre, needed for a healthy digestive system.