Roasted beetroot hummus with veggie dippers
Roasted beetroot hummus with veggie dippers
Prep 20 mins | Cook 1hr | Makes 2 1/2 cups
500g (about 4 medium) beetroot, trimmed
400g can chickpeas, rinsed and drained
1 garlic clove, crushed
1 tbs tahini
1/3 cup lemon juice
1/3 cup light flavoured extra virgin olive oil
1/2 tsp ground cumin
Carrot and celery sticks and grissini, to serve
Step 1 Preheat oven to 200°C fan-forced. Wrap each beetroot in foil and place onto a baking tray. Roast for 1 hour or until tender when tested with a skewer. Unwrap beets and set aside to cool.
Step 2 Wearing disposable gloves, peel beets and roughly chop the flesh. Place into a food processor. Add chickpeas and garlic and process until finely chopped. Add tahini, lemon juice, oil and cumin and process until smooth. Serve with carrot and celery sticks and grissini.
Good for you ...
Red Beetroot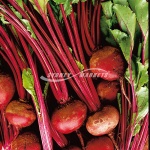 A good source of folate, a B vitamin that contributes to normal growth and development in children as well as the formation of blood cells. One medium beetroot provides about half an average adult's recommended dietary intake of folate.
The purple pigments in beetroot, known as anthocyanins may act as antioxidants.
Provide dietary fibre, needed for a healthy digestive system.