Roasted apricots with passionfruit, honey & ricotta
Roasted apricots with passionfruit, honey & ricotta
Prep 15 mins + chilling time | Cook 12 mins | Serves 4
8 plump apricots, halved and stones removed
2 tbs honey + extra to serve
1/3 cup natural sliced almonds
250g wedge of fresh ricotta
2 passionfruit, pulp removed
Step 1 Preheat oven to 200°C/180°C fan-forced. Place apricots onto a baking tray lined with baking paper. Drizzle with honey and sprinkle with almonds. Roast for 12 minutes or until just softened. Set aside to cool to room temperature.
Step 2 Arrange apricots in serving bowls. Slice ricotta into 4 thin wedges and place a slice into each bowl. Drizzle with passionfruit pulp and extra honey and serve.
Good for you ...
Apricots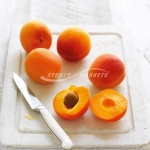 A source of dietary fibre, which is important to maintain the normal function of the intestine.
The deeper the colour of an apricot, the higher its content of beta carotene (which the body converts to vitamin A). Vitamin A is needed for normal vision.
A good source of vitamin C, which helps the body absorb iron.