Roasted apricots with crumble topping
Roasted apricots with crumble topping
Prep 15 min | Cook 12 min | Serves 4
8 (about 750g) plump apricots, halved and stones removed
2 tbs maple syrup
125g butternut sweet biscuits (or similar biscuits)
1⁄3 cup flaked almonds
50g butter, melted
Reduced fat vanilla ice-cream or thick Greek-style natural yoghurt, to serve
Step 1 Preheat oven to 180°C/160°C fan-forced. Line a baking tray with non-stick baking paper. Place apricots in a bowl, drizzle with maple syrup and toss to combine. Place apricots cut-side up on a baking tray.
Step 2 Place biscuits in a plastic bag and crush with a rolling pin. Combine crumbled biscuits, almonds and melted butter in a bowl. Mix well. Sprinkle mixture over apricots. Bake for 12-15 minutes until apricots are just tender. Serve warm or at room temperature with ice-cream or yoghurt.
Good for you ...
Apricots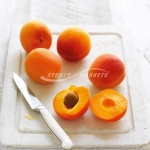 A source of dietary fibre, which is important to maintain the normal function of the intestine.
The deeper the colour of an apricot, the higher its content of beta carotene (which the body converts to vitamin A). Vitamin A is needed for normal vision.
A good source of vitamin C, which helps the body absorb iron.