Roast strawberries with waffles & ice-cream
Roast strawberries with waffles & ice-cream
Prep 10 mins | Cook 12 mins | Serves 4
2 tbs caster sugar
1⁄2 tsp vanilla extract or paste
500g large strawberries, hulled
2 Belgian waffles
Reduced fat vanilla ice-cream, to serve
STEP 1 Preheat oven to 200°C/180°C fan-forced. Line the base of a roasting pan with baking paper.
STEP 2 Combine sugar and vanilla in a large bowl. Add strawberries and stir to coat in mixture. Arrange strawberries in roasting pan. Roast, turning once, for 12-15 minutes until very tender. Stand for 5 minutes.
STEP 3 Toast waffles until hot and cut each in half. Serve warm strawberries with waffles and ice-cream.
Good for you ...
Strawberries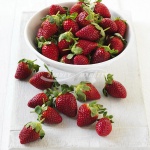 A good source of vitamin C which contributes to formation of collagen and thus plays a role in healthy gums, teeth, bones, cartilage and skin.
A source of folate, a B vitamin needed for normal blood formation.
Provide dietary fibre, which is important for the normal functioning of the intestine.
Also contain lutein, one of the carotenoid family that is involved in normal eye health.