Roast pumpkin, chickpea, rice & barley salad
Roast pumpkin, chickpea, rice & barley salad
Prep 20 mins | Cook 25 mins | Serves 4
750g butternut pumpkin, peeled and roughly chopped
1 tbs olive oil
1 tbs maple syrup
1 cup rice & barley blend
400g chickpeas, drained and rinsed
40g baby spinach leaves
75g feta cheese, crumbled
2 tbs sunflower & pumpkin seed mix
Step 1 Preheat oven to 200°C/180°C fan-forced. Place pumpkin into a large bowl, drizzle with oil and maple syrup and season with salt and pepper. Toss to evenly coat pumpkin. Transfer to a large baking tray lined with baking paper. Roast, turning once, for 25-30 minutes until tender. Set aside to cool slightly.
Step 2 Meanwhile, rinse rice & barley and cook following packet directions. Transfer to a large bowl and set aside to cool.
Step 3 Add pumpkin, chickpeas, spinach and feta to rice & barley. Season with salt and pepper to taste. Gently toss to combine. Sprinkle with seed mix and serve.
Good for you ...
Butternut Pumpkin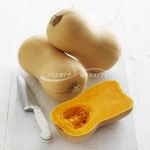 Provides beta carotene, converted to vitamin A in the body and needed for normal vision. The deeper the colour, the higher the content of beta carotene.
A source of vitamin C, which contributes to the normal functioning of the body's immune system.
Provides folate, a B vitamin that is necessary for formation of normal blood cells.