Roast pumpkin & rocket salad with blue cheese
Roast pumpkin & rocket salad with blue cheese
Prep 20 mins | Cook 30 mins | Serves 4
1.2 kg butternut pumpkin, peeled and cut into 5cm pieces
2 red onions, cut into thin wedges
2 garlic cloves, chopped
2 tbs olive oil
1 bunch asparagus
1 bunch rocket, trimmed
100g creamy blue cheese, cut into 1⁄2-cm thick slices
2 tbs roasted hazelnuts, chopped
Caramelised balsamic vinegar and extra virgin olive oil, for drizzling
Step 1 Preheat oven to 200°C/180°C fan-forced. Place pumpkin, onions, garlic and oil in a bowl. Season with salt and pepper. Toss to combine. Arrange in a single layer in a large baking pan lined with baking paper. Roast for 20–25 minutes, turning once, until tender. Set aside to cool slightly.
Step 2 Meanwhile, plunge asparagus into a frying pan of simmering water over medium heat and cook for 2–3 minutes until almost tender. Drain and refresh in cold water. Pat dry with paper towel.
Step 3 Arrange pumpkin, onions, rocket and asparagus on serving plates. Place sliced blue cheese on the baking tray (used for the pumpkin and relined with baking paper). Heat in the oven for 2 minutes or until cheese just begins to melt. Top salads with the warm blue cheese and sprinkle with hazelnuts. Drizzle with caramelised balsamic vinegar and extra virgin olive oil and serve.
Good for you ...
Butternut Pumpkin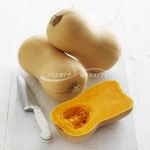 Provides beta carotene, converted to vitamin A in the body and needed for normal vision. The deeper the colour, the higher the content of beta carotene.
A source of vitamin C, which contributes to the normal functioning of the body's immune system.
Provides folate, a B vitamin that is necessary for formation of normal blood cells.