Roast butternut, mozzarella & rocket melts
Roast butternut, mozzarella & rocket melts
Prep 20 mins | Cook 35 mins | Makes 4
These delicious melts are perfect for a casual lunch or an easy meal on a Sunday night.
3 garlic cloves
2 tbs olive oil + extra for brushing
800g butternut pumpkin, peeled, deseeded and cut into 3-4cm slices
4 large slices sourdough bread, cut diagonally
150g mozzarella cheese, thinly sliced
30g baby rocket leaves
Extra virgin olive oil, for drizzling
STEP 1 Preheat oven to 200°C/180°C fan-forced. Crush 2 garlic cloves and combine with oil in a large bowl. Cut remaining clove in half lengthways and set aside. Add pumpkin to garlic in bowl and toss to combine. Place pumpkin on a baking tray lined with baking paper. Roast, turning once, for 25-30 minutes until pumpkin is tender and golden on the edges.
STEP 2 Preheat a grill on medium-high. Grill bread on one side until golden. Brush toasted side with oil then rub with reserved garlic. Place bread toasted-side down on a board. Top with pumpkin and cheese. Place on grill tray and grill until cheese melts. Top with rocket, drizzle with extra virgin olive oil, season with salt and pepper and serve.
Good for you ...
Butternut Pumpkin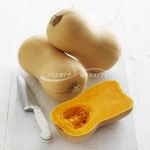 Provides beta carotene, converted to vitamin A in the body and needed for normal vision. The deeper the colour, the higher the content of beta carotene.
A source of vitamin C, which contributes to the normal functioning of the body's immune system.
Provides folate, a B vitamin that is necessary for formation of normal blood cells.