Rhubarb & strawberry meringue pudding
Rhubarb & strawberry meringue pudding
Prep 30 mins + cooling time | Cook 35 mins | Serves 8
1 large bunch rhubarb*, trimmed and cut into 1cm-thick slices
1 cup caster sugar
1 tsp finely grated lemon zest
500g strawberries, hulled and halved
1 tbs cornflour
Butter, for greasing
1 x 16cm plain sponge cake, cut across into 1.5 cm-thick slices
3 free-range egg whites, at room temperature
*You'll need about 450g trimmed rhubarb
STEP 1 Place rhubarb, 1⁄2 cup sugar and lemon zest in a medium saucepan. Cover and bring to a simmer over medium heat. Cook, stirring occasionally, for 10-12 minutes until rhubarb is almost tender. Add strawberries and cook for 2-3 minutes until softening. Combine cornflour with 1 tbs water in a cup. Stir mixture into rhubarb and cook for 2 minutes. Set aside.
STEP 2 Preheat oven to 240°C/220°C fan-forced. Grease a 6-cup (about 5cm deep) baking dish with butter. Line base with sponge cake. Pour warm rhubarb mixture over sponge and smooth top.
STEP 3 To make meringue, using an electric mixer, beat egg whites until soft peaks form. Gradually beat in the remaining 1⁄2 cup sugar until thick and glossy. Spoon meringue over rhubarb mixture. Bake for 10-12 minutes until just browning on meringue peaks. Stand for 10 minutes and serve.
Good for you ...
Rhubarb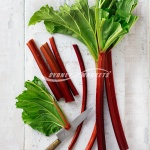 A source of dietary fibre which helps keep the normal function of the intestine.
Provides vitamin C, which contributes to the normal functioning of the body's immune system.
A source of potassium which may help balance the effects of sodium from salt.