Rhubarb & strawberry meringue pudding
Rhubarb & strawberry meringue pudding
Prep 30 mins | Cook 30 mins | Serves 6-8
1 large bunch rhubarb*, trimmed and cut into 1cm-thick slices
500g strawberries, hulled and roughly chopped
1⁄2 cup caster sugar
1 tsp finely grated lemon zest
1 tbs cornflour
1 tbs water
1 x 16cm single plain sponge cake, cut crossways into 2cm slices
4 free range egg whites, at room temperature
1⁄2 cup caster sugar
*Note, you will need 400g trimmed rhubarb stems.
Step 1 Place rhubarb, strawberries, caster sugar and lemon zest in a medium saucepan. Cover and bring to a simmer over medium heat. Cook, stirring occasionally, for 12–15 minutes or until rhubarb is very soft. Combine cornflour and water in a cup. Stir mixture into rhubarb and cook for 2 minutes.
Step 2 Preheat oven to 240°C/220°C fan-forced. Grease a 6-cup (about 5cm deep) baking dish. Line base with sponge cake. Pour warm rhubarb mixture over sponge.
Step 3 To make meringue, place egg whites into a large clean dry bowl. Beat with electric beaters on high until soft peaks form. Gradually beat in sugar until thick and glossy. Spoon meringue over rhubarb mixture. Bake for 5–8 minutes until pale golden and serve.
Good for you ...
Rhubarb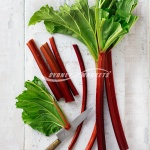 A source of dietary fibre which helps keep the normal function of the intestine.
Provides vitamin C, which contributes to the normal functioning of the body's immune system.
A source of potassium which may help balance the effects of sodium from salt.