Rhubarb & strawberry brown sugar crumble
Rhubarb & strawberry brown sugar crumble
Prep 20 mins | Cook 25 mins | Serves 4-6
This sweet, hot crumble is delicious served with ice-cream or custard.
1 bunch rhubarb, trimmed and cut into 1cm slices
250g large strawberries, hulled and sliced lengthways
2 tbs caster sugar
Crumble topping:
½ cup plain flour
75g butter, chopped
⅓ cup brown sugar
*discard rhubarb leaves, about 400 g trimmed rhubarb is required
Step 1 Preheat oven to 180°C/160°C fan-forced. Grease a 4-cup shallow ovenproof dish. Combine rhubarb, strawberries and caster sugar in the dish.
Step 2 To make crumble topping, place flour in a medium bowl. Add butter. Using your fingertips, rub in butter until well combined. Mix in brown sugar. Sprinkle crumble over fruit mixture. Bake for 25–30 minutes or until crumble is crisp and fruit is very tender.
Good for you ...
Rhubarb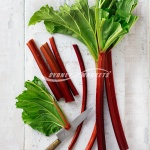 A source of dietary fibre which helps keep the normal function of the intestine.
Provides vitamin C, which contributes to the normal functioning of the body's immune system.
A source of potassium which may help balance the effects of sodium from salt.