Figs, rocket & prosciutto with balsamic ricotta
Figs, rocket & prosciutto with balsamic ricotta
Prep 15 mins | Serves 4
8 plump ripe figs, halved
8 thin slices prosciutto
Baby rocket leaves, to serve
Extra virgin olive oil, for drizzling
Balsamic ricotta:
200g low fat fresh ricotta cheese
2 tsp honey
1 tsp caramelised balsamic vinegar
Step 1 To make balsamic ricotta, beat ricotta and honey in a small bowl until smooth. Season with salt and pepper to taste, then swirl through balsamic vinegar.
Step 2 To serve, arrange figs, prosciutto and rocket on a board or serving platter. Drizzle with extra virgin olive oil and serve with balsamic ricotta.
Good for you ...
Figs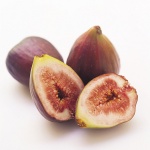 A source of dietary fibre which helps with normal laxation. The fibre is concentrated in the fig seeds.
A source of vitamin C, which contributes to the normal functioning of the body's immune system.