Raw veggie & tofu Pad Thai salad
Raw veggie & tofu Pad Thai salad
Prep 25 mins | Serves 4
This healthy salad is based on the flavours in a Pad Thai stir-fry.
150g dried Thai-style rice noodles
2 carrots, julienned
1½ cup finely shredded red cabbage
3 green onions (shallots), trimmed and halved lengthways
1 cup trimmed bean sprouts, to serve
200g pkt teriyaki tofu, cut into a 1-2cm dice
1 cup coriander leaves
1 cup Thai basil leaves
½ cup small mint leaves
1 long red chilli, deseeded and chopped
1/3 cup chopped roasted peanuts, chopped
Sliced long red chilli and lime wedges, to serve
Soy dressing:
1 garlic clove, crushed
¼ cup lime juice
2 tbs maple syrup
2 tbs soy sauce
1 tbs fish sauce
Step 1 Place noodles into a large heatproof bowl. Cover with boiling water. Stand for 2-3 minutes or until just tender. Drain noodles, rinse in cold water and set aside in a colander to dry. Wipe the bowl dry. Return rice noodles to the bowl.
Step 2 To make soy dressing, combine all ingredients in a screw-top jar. Shake until well combined. Set aside.
Step 3 Using a julienne peeler, shred carrots lengthways into long thin strands. Add carrots, cabbage, green onions, bean sprouts, tofu, coriander, Thai basil, mint and chilli to noodles. Drizzle with the dressing and gently toss to combine. Spoon into serving bowls and sprinkle with peanuts. Serve with extra sliced red chilli and lime wedges.
Good for you ...
Red Cabbage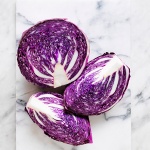 An excellent source of vitamin C, which helps us absorb iron from food.
Provides dietary fibre which helps the intestine function normally.