Raspberry & almond cake
Prep 20 mins | Cook 50-55 mins | Serves 8
150g unsalted butter, softened
2/3 cup caster sugar
2 free-range eggs, at room temperature
1 tsp vanilla extract
¼ cup milk
1 cup self-raising flour
1 ¼ cups almond meal
250g raspberries
Icing sugar, for dusting
Thick Greek-style natural yoghurt, to serve
Step 1 Preheat oven to 180°C/160°C fan-forced. Grease and line the base and sides of a 20cm round cake pan with baking paper.
Step 2 Using electric hand-beaters, cream butter and sugar until light and creamy. Add eggs, one at a time, beating well after each addition. Beat in the milk. Sift over the flour. Add almond meal and using a large metal spoon, gently fold in until well combined.
Step 3 Spread half the mixture into the pan. Scatter over half of the raspberries then top with the remaining mixture. Smooth top. Scatter with half of the remaining raspberries. Bake for 50-55 minutes until a skewer inserted in the centre comes out clean. Cool in the pan for 10 minutes then transfer to a wire rack to cool.
Step 4 Dust with icing sugar, slice and serve with the remaining raspberries and yoghurt.
Good for you ...
Raspberries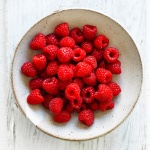 A very good source of dietary fibre which helps keep the intestine functioning normally.
A source of folate, a B vitamin needed for normal blood formation.
A very good source of vitamin C which contributes to the normal functioning of the body's immune system.
Provide some folate (important for heart health) and small quantities of vitamin E which is important for keeping red blood cells healthy