Radicchio, fennel, pear & blue cheese salad
Radicchio, fennel, pear & blue cheese salad
Prep 20 mins | Serves 4
This salad makes a light and easy side dish to share.
1 medium bulb fennel, trimmed
1 medium firm Beurre Bosc pear, halved and cored
1 head radicchio, trimmed and roughly shredded
125g gorgonzola or soft blue cheese, crumbled
1/3 cup walnuts, toasted
Red wine & honey dressing:
2 tbs red wine vinegar
¼ cup extra virgin olive oil
1 tsp Dijon mustard
1 tbs honey
Step 1 Using a V-slicer or very sharp knife, very thinly slice fennel and pear. Arrange raddichio, fennel and pear on a large serving platter. Scatter with gorganzola or blue cheese and walnuts.
Step 2 To make red wine & honey dressing, combine all ingredients in a screw-top jar. Season with salt and pepper. Shake until well combined. Drizzle dressing over the salad and serve.
Good for you ...
Fennel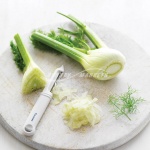 A good source of dietary fibre, which helps the intestine function normally and also vitamin C, a vitamin that contributes to the function of the body's normal immune system.
Has virtually no fat and few kilojoules so is a useful food for those trying to control weight.
A source of potassium.