Quinoa tabouli & chickpea salad
Quinoa tabouli & chickpea salad
Prep 20 mins | Cook 13 mins | Serves 4-6
1 cup white quinoa
2 cups water
400g can chickpeas, drained and rinsed
4 cups firmly-packed flat-leaf parsley leaves, chopped
1 cup mint leaves, chopped
3 green onions (shallots), trimmed and thinly sliced
2 Lebanese cucumbers, deseeded and chopped in 1cm dice
250g grape or mini roma tomatoes, halved
¼ cup pepitas
Lemon dressing:
1/3 cup extra virgin olive oil
¼ cup lemon juice
1 clove garlic, crushed
Step 1 Rinse quinoa and place into a small saucepan. Add water, stir to combine and bring to the boil over high heat. Boil for 2 minutes. Reduce heat, cover and cook for 10 minutes or until tender and water is absorbed. Set aside to cool. Fluff with a fork.
Step 2 Place cooled quinoa into a large bowl. Add chickpeas, parsley, mint, green onions, cucumbers and tomatoes. Toss gently to combine.
Step 3 To make the lemon dressing, combine all ingredients in a screw-top jar. Season with salt and pepper to taste. Shake until well combined.
Step 4 Pour the dressing over salad. Gently toss to combine. Spoon onto a serving platter. Scatter with pepitas and a few extra mint and parsley leaves if liked, and serve.
Good for you ...
Tomatoes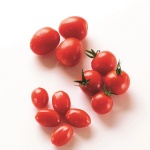 A very good source of vitamin C which contributes to the normal functioning of the body's immune system.
Provides potassium which may help balance the sodium from salt.
A source of dietary fibre which helps the normal function of the intestine.
Tomatoes are the richest food source of lycopene, a member of the carotenoid family. Research suggests that lycopene may play a role in the normal health of the prostate gland. The redder the tomato, the higher its lycopene content. Rich red tomatoes are also a source of beta carotene which is converted into vitamin A in the body and is needed for vision.