Quick veggie, bacon & 2 minute noodle soup
Quick veggie, bacon & 2 minute noodle soup
Prep 15 mins | Cook 20 mins | Serves 4
Great for a quick meal or an after school snack on cold days.
1 tbs olive oil
125g shortcut bacon, finely chopped
2 green onions (shallots), trimmed and thinly sliced
1 carrot, finely diced
1 celery stick, thinly sliced
1 zucchini, finely diced
50g green beans, trimmed and sliced
4 cups chicken stock
1 x 85g pkts 2-minute chicken noodles
Wholegrain toast, to serve
Step 1 Heat oil in a medium saucepan over medium heat. Add bacon and cook, stirring often, for 3 minutes. Add green onions, carrot, celery, zucchini and beans and cook, stirring often for 3 minutes.
Step 2 Add stock, cover and bring to the boil. Reduce heat to medium low, and simmer, stirring occasionally, for 15 minutes or until vegetables are tender.
Step 3 Meanwhile, roughly break up dried noodles and cook, following packet directions. Drain. Add noodles to soup. Ladle soup into serving cups or bowls and serve with wholegrain toast.
Good for you ...
Zucchini Flowers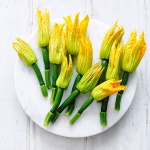 Zucchini are a source of vitamin C. This vitamin is important for healthy gums and also helps the body fight infections. Dark green varieties contribute some beta carotene, an antioxidant pigment which the body can convert to vitamin A.