Quick veggie & chicken brown rice
Quick veggie & chicken brown rice
Prep 15 mins | Cook 15 mins | Serves 4
450g pkt 21⁄2 minute quick cook brown rice
2 tbs peanut oil
2 eggs, lightly beaten
1 large carrot, peeled and chopped
3 green onions (shallots), sliced
150g sugar snap peas, trimmed
125g baby corn, halved lengthways
1⁄2 barbecued chicken, flesh shredded (discard skin and bones)
2 tbs salt reduced soy sauce
1 tsp sesame oil
1⁄4 cup almond kernels, chopped
Step 1 Cook rice in the microwave following packet directions. Set aside.
Step 2 Heat 2 tsp oil in a wok over high heat. Swirl eggs around wok to form an omelette and cook for 2 minutes until almost set. Fold over and cook until set. Roll up and transfer to a board.
Step 3 Heat remaining 11⁄2 tbs oil in wok over high heat until hot. Add carrot, green onions, sugar snap peas and baby corn. Stir-fry for 2–3 minutes. Add rice, chicken, soy sauce, sesame oil and almonds. Stir-fry for 2 minutes. Roughly chop omelette and toss into rice. Spoon into serving bowls and serve.
Good for you ...
Sugar Snap Peas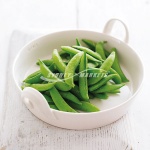 A good source of vitamin C, which contributes to the normal functioning of our immune system.
Provide dietary fibre, which is needed for normal laxation.
A source of potassium, which may help balance the adverse effects of sodium from salt.
Provide niacin (Vitamin B3) which is needed for the normal release of energy from food.