Quick strawberry cheesecake parfaits
Quick strawberry cheesecake parfaits
Prep 20 mins | Serves 4
250g tub light (80% less fat) cream cheese
2 tbs icing sugar
1⁄2 tsp vanilla extract
6 Butternut Snap biscuits (or similar sweet biscuits) 250g strawberries, hulled and halved
125g blueberries
Maple syrup, to serve
Step 1 Place cream cheese, icing sugar and vanilla into a bowl. Using electric hand beaters, beat for 2-3 minutes until light and fluffy.
Step 2 Place biscuits in a plastic bag and roughly crush using a rolling pin. Reserve 1 tbs crushed biscuits. Place remaining crushed biscuits into 4 serving glasses. Top with cream cheese mixture and berries. Drizzle with maple syrup, sprinkle with remaining crushed biscuits and serve.
Good for you ...
Strawberries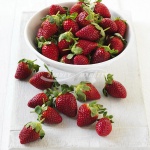 A good source of vitamin C which contributes to formation of collagen and thus plays a role in healthy gums, teeth, bones, cartilage and skin.
A source of folate, a B vitamin needed for normal blood formation.
Provide dietary fibre, which is important for the normal functioning of the intestine.
Also contain lutein, one of the carotenoid family that is involved in normal eye health.