Pumpkin, pomegranate & chickpea tabouli salad
Pumpkin, pomegranate & chickpea tabouli salad
Prep 30 mins | Cook 35 mins | Serves 6 as a side dish
This salad can be served as a side dish or vegetarian main meal.
1 cup cracked wheat (burghal)
750g butternut pumpkin, peeled and cut into 3–4cm pieces
2 garlic cloves, finely chopped
Olive oil cooking spray
1 tsp ground cumin
4 cups flat-leaf parsley leaves (about 2 bunches)
1⁄2 cup mint leaves, roughly chopped
4 green onions (shallots), thinly sliced
50g toasted pine nuts
400g can chickpeas, rinsed and drained
1⁄3 cup lemon juice
1⁄3 cup extra virgin olive oil
1⁄2 small pomegranate, halved and seeds removed
Step 1 Preheat oven to 200°C/180°C fan-forced. Place cracked wheat into a heatproof bowl. Pour over 1 cup boiling water to cover. Stand for 30 minutes.
Step 2 Meanwhile, spray pumpkin and garlic with oil and sprinkle with cumin. Season with salt and pepper. Place on a large baking tray lined with non-stick baking paper. Bake for 25–30 minutes until crisp at the edges and tender. Remove from oven. Set aside to cool.
Step 3 Place cracked wheat, parsley, mint, green onions, pine nuts and chickpeas into a large bowl. Drizzle with lemon juice and oil. Season with salt and pepper to taste. Gently toss to combine. Spoon into a serving bowl, sprinkle with pomegranate seeds and serve.
Good for you ...
Butternut Pumpkin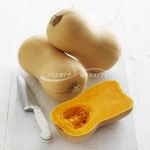 Provides beta carotene, converted to vitamin A in the body and needed for normal vision. The deeper the colour, the higher the content of beta carotene.
A source of vitamin C, which contributes to the normal functioning of the body's immune system.
Provides folate, a B vitamin that is necessary for formation of normal blood cells.