Potato, leek, bacon & bean soup
Potato, leek, bacon & bean soup
Prep 25 mins | Cook 45 mins | Serves 4-6
If liked, cook a little extra chopped bacon to sprinkle on soup to serve.
2 tbs olive oil
2 medium leeks, trimmed, halved lengthways and thinly sliced
175g rindless shortcut bacon, roughly chopped
2 garlic cloves, finely chopped
600g Desiree potatoes, peeled and diced
400g can cannellini beans, drained and rinsed
4 cups chicken stock
1⁄2 cup reduced fat cream
Toasted wholegrain bread, to serve
Step 1 Heat oil in a large saucepan over medium heat. Add leeks, bacon and garlic and cook, stirring often, for 5 minutes until leeks are tender. Add potatoes and cook, stirring often, for 5 minutes.
Step 2 Stir in cannellini beans and stock. Cover and bring to the boil. Reduce heat and simmer, partially covered and stirring occasionally, for 20-25 minutes until potatoes are tender.
Step 3 Using a hand blender, puree soup until smooth. Stir in cream. Heat soup over low heat until hot. Spoon into serving cups or bowls and serve with toasted wholegrain bread.
Good for you ...
Desiree Potatoes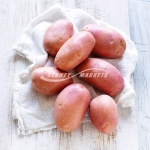 A source of vitamin C, a vitamin that contributes to the normal structure and function of blood vessels throughout the body.
A source of dietary fibre, especially if the skin is left on. Dietary fibre contributes to normal laxation. The skin of potatoes also helps retain vitamins during cooking.
Provides potassium which may help balance sodium from salty foods.