Potato, gremolata & pine nut salad
Potato, gremolata & pine nut salad
Prep 25 mins | Cook 15 mins | Serves 6
750g baby kestrel or new potatoes*
2 green onions (shallots), trimmed and thinly sliced
1 garlic clove, finely crushed
3⁄4 cup flat leaf parsley, chopped
2 tsp lemon zest
1⁄3 cup reduced fat whole egg mayonnaise
1⁄4 cup reduced fat Greek-style natural yoghurt
1 tsp lemon juice
2 tbs toasted pine nuts
*Choose similar-sized potatoes so they cook evenly
STEP 1 Place potatoes into a large saucepan of cold salted water. Cover and bring to the boil over high heat. Reduce heat and gently boil, uncovered, for 12-15 minutes (depending on size) until just tender. Drain and refresh in cold water. Set aside to fully cool. Once cool, halve potatoes lengthways and place into a large bowl. Add green onions.
STEP 2 To make the gremolata, combine garlic, parsley and lemon zest in a small bowl.
STEP 3 Combine mayonnaise, yoghurt, lemon juice and salt and pepper to taste in a small bowl. Stir mixture through potatoes. Gently fold through pine nuts and two-thirds of the gremolata. Spoon into a serving bowl, sprinkle with remaining gremolata and serve.
Good for you ...
New Potatoes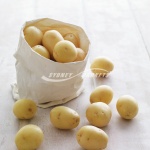 A source of vitamin C, a vitamin that contributes to the normal structure and function of blood vessels throughout the body.
A source of dietary fibre, especially if the skin is left on. Dietary fibre contributes to normal laxation. The skin of potatoes also helps retain vitamins during cooking.
Provides potassium which may help balance sodium from salty foods.