Potato, dill, bacon & egg salad
Potato, dill, bacon & egg salad
Prep 20 mins | Cook 20 mins | Serves 6
1 kg small even-sized chat potatoes, scrubbed
200g rindless bacon, roughly chopped
3 green onions (shallots), trimmed and thinly sliced
1 tbs baby capers, chopped
3 cold hard-boiled eggs, peeled and chopped
11⁄2 tbs finely chopped dill
1⁄2 cup sour light cream
2 tbs lemon juice
1⁄3 cup whole egg mayonnaise
Micro salad greens, trimmed, to serve (optional)
Step 1 Place potatoes in a large saucepan of cold water and bring to the boil over medium-high heat. Reduce heat and simmer for 12–15 minutes until just tender. Drain and refresh in cold water. Halve potatoes lengthways and place into a large bowl.
Step 2 Cook bacon in a non-stick frying pan, tossing often, over medium-high heat for 4–5 minutes until crisp and golden. Drain on paper towel. Add bacon, green onions, capers, eggs and dill to potatoes. Season well with pepper and salt.
Step 3 Mix sour cream, lemon juice and mayonnaise in a small bowl. Spoon mixture over potato mixture and toss gently to combine. Sprinkle with micro salad greens (if using) and serve.
Good for you ...
Chat Potatoes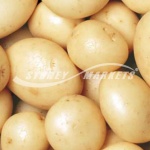 A reliable source of Vitamin C, the vitamin that helps protect the body against infection.
Provide dietary fibre in the skin and the flesh.
The skin of potatoes helps retain vitamins during cooking and also has higher levels of some antioxidants, which may be important as we grow older and produce less of our own antioxidants.