Potato & tomato medley salad with steaks
Potato & tomato medley salad with steaks
Prep 30 mins | Cook 25 mins | Serves 4
250g small new potatoes, washed and halved
400g tomato medley (includes cherry, mini roma, grape and kumatoes), roughly chopped
1 cup flat leaf parsley leaves, chopped
2 tbs extra virgin olive oil
2 tsp white balsamic vinegar
Salt and ground black pepper
4 thick (about 200g each) beef sirloin steaks
olive oil cooking spray
Step 1 Gently boil potatoes in a medium saucepan of water over medium-high heat for 10 minutes or until just tender. Drain and refresh in cold water. Pat dry. Place into a medium bowl. Add tomatoes, parsley, oil and vinegar. Season with salt and pepper to taste. Toss to combine and set aside.
Step 2 Preheat a barbecue or char-grill over medium high heat. Spray steaks with oil and season with salt and pepper. Barbecue or char-grill steaks for 4-5 minutes on each side (for medium rare) or until cooked to your liking. Transfer to a plate, cover with foil and rest for 5 minutes. Thickly slice steaks and serve with potato and tomato salad.
Good for you ...
New Potatoes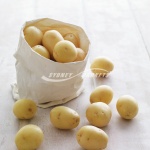 A source of vitamin C, a vitamin that contributes to the normal structure and function of blood vessels throughout the body.
A source of dietary fibre, especially if the skin is left on. Dietary fibre contributes to normal laxation. The skin of potatoes also helps retain vitamins during cooking.
Provides potassium which may help balance sodium from salty foods.