Portabella mushroom & roast capsicum baps
Portabella mushroom & roast capsicum baps
Prep 15 mins | Cook 15 mins | Serves 4
1 red capsicum, halved lengthways and deseeded
4 x 85g Portabella (flat) mushrooms, trimmed
Olive oil cooking spray
4 bap (or soft) bread rolls, split
100g marinated goat's feta cheese, drained
40g baby or wild rocket leaves
Step 1 Preheat a grill on high. Place capsicum skin-side up on a grill tray. Grill for 8-10 minutes or until skin is blackened. Remove from heat and place in a plastic bag. Stand for 10 minutes to slightly cool, then remove skin and cut capsicum in thin strips. Set aside.
Step 2 Preheat a non-stick frying pan over medium heat. Spray mushrooms with oil. Pan-fry mushrooms for 3-4 minutes on each side until tender.
Step 3 Meanwhile, toast or grill baps. Place bap bases on board, spread with feta cheese and top with rocket. Top each with a mushroom and a quarter of the roasted capsicum. Season with salt and pepper. Top with remaining bap tops and serve.
Good for you ...
Portabella Mushrooms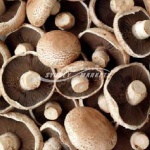 Fresh mushrooms differ from vegetables in that they supply mainly B group vitamins rather than contributing vitamin C and carotenoids (which are converted in the body to vitamin A)
They are a source of riboflavin (vitamin B2) and niacin, both of which contribute to the normal release of energy from food. They are also a source of the B vitamins pantothenic acid and biotin which both contribute to normal metabolism of fat.
A source of selenium, a mineral which contributes to the maintenance of hair and nails and the way the body uses iodine in its production of thyroid hormones.