Poached spiced summer fruits
Poached spiced summer fruits
Prep 20 mins + chilling time | Cook 12 mins | Serves 6
3 cups coconut water
¼ cup honey
2 star anise
1 vanilla bean, split lengthways
1 cinnamon stick
3 thick strips of orange rind
Juice of 1 orange
2 just ripe peaches, cut into thick wedges
6 just-ripe apricots, halved and stones removed
2 just-ripe nectarines, quartered
200g plump cherries
Thick Greek-style natural yoghurt, to serve
Step 1 Combine coconut water, honey, star anise, vanilla bean, cinnamon stick and orange rind and juice in a large saucepan. Cover and bring to the boil, stirring occasionally, over medium heat. Add peaches, apricots and nectarines to pan. Reduce heat, cover and gently simmer for 4-5 minutes until just tender. Add cherries to the pan. Using a slotted spoon, transfer fruit to a heatproof dish.
Step 2 Bring coconut water mixture back to the boil over high heat. Reduce heat and gently boil until reduced by a half. Remove from heat. Set syrup aside to cool.
Step 3 Pour cooled syrup over fruit. Cover and chill for 1 hour or until ready to serve. Serve with thick Greek-style natural yoghurt.
Good for you ...
Apricots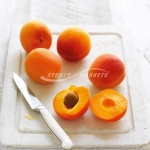 A source of dietary fibre, which is important to maintain the normal function of the intestine.
The deeper the colour of an apricot, the higher its content of beta carotene (which the body converts to vitamin A). Vitamin A is needed for normal vision.
A good source of vitamin C, which helps the body absorb iron.