Poached plums with coconut chia
Poached plums with coconut chia
Prep 15 mins + chilling time | Cook 5 mins | Serves 4
This is excellent for a healthy dessert or can be served brunch.
500g plums, chopped, deseeded and roughly chopped
2 tbs caster sugar
Coconut chia:
2 tbs white chia seeds
2 tsp caster sugar
3⁄4 cup reduced fat coconut milk
Step 1 Place plums and sugar in a 4-cup shallow oven-proof dish. Cover and microwave on high for 4-5 minutes until tender. Carefully remove and stand for 30 minutes to cool. Place into an airtight container and chill until ready to serve.
Step 2 To make coconut chia, combine all ingredients in a small bowl. Stir until well combined. Evenly spoon into base of 4 serving glasses cover and refrigerate for 3 hours or until just firm.
Step 3 To serve, spoon poached plums over coconut chia and serve.
Good for you ...
Plums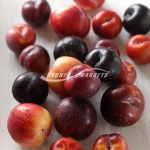 A source of dietary fibre, which contributes to the normal functioning of the intestine.
Provides vitamin C which contributes to the normal functioning of the body's immune system.
The purple skin on some plums is a source of pigments called anthocyanins that are being studied for their potential antioxidant role.