Poached pears in citrus & honey syrup
Poached pears in citrus & honey syrup
Prep 20 mins | Cook 25 mins | Serves 4
1 cup blood or Navel orange juice (about 3 oranges)
¼ cup lemon juice
⅓ cup honey
¼ cup caster sugar
2 cinnamon sticks
¼ cup lemon juice
4 medium Beurre Bosc pears, peeled, cored and quartered lengthways
toasted flaked almonds, to serve
reduced fat thick natural yoghurt, to serve
Step 1 Strain orange and lemon juice into a medium saucepan. Add honey, sugar and cinnamon sticks. Stir over medium heat until sugar dissolves. Cover and bring to the boil.
Step 2 Add pears to syrup. Reduce heat, partially cover and simmer, stirring occasionally, for 10–12 minutes or until pears just soften. Uncover, and cook over medium-high heat for 4–5 minutes or until syrup is reduced by a third and pears are tender. Remove pan from heat and set aside to cool slightly.
Step 3 Spoon warm pears and syrup into serving bowls, sprinkle with toasted flaked almonds and serve with thick natural yoghurt.
Note: If using blood oranges, for an intense pink colour leave the pears in the poaching syrup for 4 hours or overnight in an airtight container in the fridge.
Good for you ...
Beurre Bosc Pears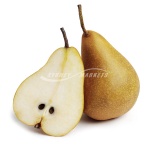 A good source of dietary fibre which contributes to normal laxation.
Provide vitamin C, which contributes to the normal functioning of the body's immune system.
Pears have a low GI (33-41), which means their natural sugars are broken down slowly for absorption into the bloodstream.