Poached berries with easy pancakes
Poached berries with easy pancakes
Prep 20 mins | Cook 20 mins | Serves 4
Poached berries:
125g blueberries
250g small strawberries, hulled and halved
1 tbs maple syrup
Easy Pancakes:
11/4 cups milk
2 tbs lemon juice
11/3 cups plain flour
¼ cup caster sugar
3 tsp baking powder
1/2 tsp bi-carbonate of soda
2 free-range eggs, lightly beaten
30g melted butter
thick vanilla yoghurt or ice-cream, to serve
Step 1 To make the poached berries, combine berries and maple syrup in a small saucepan. Gently bring to the boil over medium heat and simmer for 1 minute. Remove from heat, transfer to a heatproof bowl and chill until ready to serve.
Step 2 To make pancakes, whisk milk and lemon juice in a jug. Stand for 5 minutes. Combine flour, sugar, baking powder and bi-carbonate of soda in a large bowl. Mix to combine. Make a well in the centre of the dry ingredients. Add the eggs, butter and the milk mixture. Whisk until smooth.
Step 3 Heat a large frying pan over medium-low heat. Brush with melted butter to grease. Cooking pancakes in batches, pour 1/4 cup batter per pancake into the pan and cook for 2 minutes or until bubbles appear on the surface. Turn and cook for a further 1-2 minutes until golden and cooked through. Keep pancakes warm in between cooking batches.
Step 4 Serve pancakes with the poached berries and thick vanilla yoghurt or ice-cream.
Good for you ...
Strawberries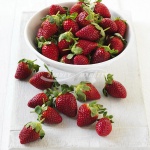 A good source of vitamin C which contributes to formation of collagen and thus plays a role in healthy gums, teeth, bones, cartilage and skin.
A source of folate, a B vitamin needed for normal blood formation.
Provide dietary fibre, which is important for the normal functioning of the intestine.
Also contain lutein, one of the carotenoid family that is involved in normal eye health.