Piri Piri barbecued chicken
Piri Piri barbecued chicken
Prep 30 mins + marinating time | Cook 40 mins | Serves 4
1.8 kg chicken, trimmed and cut into 8 pieces
Leafy green salad and lime wedges, to serve
Piri Piri paste (Makes 2⁄3 cup paste)
7 long red chillies, deseeded and roughly chopped
3 garlic cloves, chopped
2 tbs lime juice
100ml olive oil
Step 1 To make piri piri paste, place all ingredients into a food processor. Season with salt and pepper. Process until chilli is finely chopped. Set aside.
Step 2 Using a sharp knife, score thickest parts of chicken pieces. Place in a large ceramic dish. Coat chicken with piri piri paste. Cover and refrigerate for 2–3 hours (or overnight if time permits).
Step 3 Preheat a greased barbecue plate over medium heat. Barbecue chicken, basting with any remaining piri piri paste and turning occasionally, for 35–40 minutes or until just cooked through. Serve with a leafy green salad and lime wedges.
Good for you ...
Bird's Eye Chilli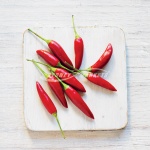 Chillies are rich in vitamin C, beta carotene (which the body converts to vitamin A) and dietary fibre. However, their fiery flavour means we usually consume them only in small quantities.
Even 10g of chilli will provide half the day's requirement for vitamin C. This vitamin plays a role in the body's immune system.