Pink grapefruit, rocket & pine nut salad with chicken
Pink grapefruit, rocket & pine nut salad with chicken
Prep 20 mins | Cook 10 mins | Serves 4
3 ruby red grapefruit
75g baby rocket leaves
1⁄2 small red onion, thinly sliced
1⁄4 cup toasted pine nuts
1⁄4 cup extra virgin olive oil
1 tbs maple syrup
2 tsp red wine or balsamic vinegar
Olive oil cooking spray
4 small chicken breast fillets, trimmed
2 tbs olive oil
Step 1 Peel and remove all white pith from 2 grapefruit. Segment grapefruit and place segments in a large bowl. Add rocket, onion and pine nuts. Gently toss to combine. Set aside.
Step 2 To make dressing, juice the remaining grapefruit. Combine 1⁄4 cup grapefruit juice, extra virgin olive oil, maple syrup and vinegar in a screw-top jar. Season with salt and pepper to taste. Set aside.
Step 3 Spray chicken on both sides with oil and season with salt and pepper. Heat a large non-stick frying pan over high heat. Cook chicken for 5minutes on each side until cooked through.
Step 4 To serve, arrange chicken and salad on serving plates. Shake dressing, drizzle over salad and serve.
Good for you ...
Pink Grapefruit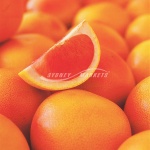 A good source of vitamin C. Among its many functions, vitamin C contributes to collagen which plays a role in healthy gums, teeth, bones, cartilage and skin.
A source of dietary fibre which is helps keep the intestine functioning normally.
The pink colour is due to carotenoids, including beta carotene which is converted to vitamin A in the body. This vitamin contributes to the normal functioning of the body's immune system.
One of the few sources of lycopene, a member of the carotenoid family that has been linked with normal health of the prostate gland in men.