Pink grapefruit delicious puddings
Pink grapefruit delicious puddings
Prep 20 mins | Cook 25 mins | Serves 4
3⁄4 cup caster sugar
50g butter, softened + extra for greasing
2 eggs, separated
1⁄3 cup fresh grapefruit juice
1 tsp finely grated grapefruit zest
2 tbs plain flour
1 cup full cream milk
Icing sugar, for dusting
Step 1 Preheat oven to 180°C/160°C fan-forced. Lightly grease 4 x 1 cup teacups (or ovenproof dishes). Sprinkle the base and sides of each teacup with 1⁄4 tsp caster sugar.
Step 2 Using electric beaters, beat butter and 1⁄2 cup sugar in a large bowl until well combined. Add eggs yolks, one at a time, mixing well after each addition. Add grapefruit juice and zest (the mixture will curdle) and mix until well combined. Using a large metal spoon, gently fold in sifted flour and milk.
Step 3 In a clean medium bowl, using electric beaters, beat egg whites until soft peaks form. Add remaining sugar a little at a time, beating well until sugar dissolves. Fold one third egg whites into grapefruit mixture, then gently fold in remaining egg whites until just combined. Spoon mixture into prepared teacups. Place teacups into a baking pan. Pour boiling water into pan to come halfway up the sides of the teacups. Bake for 25 minutes or until puddings are well risen and pale golden. Dust with icing sugar and serve immediately.
Good for you ...
Pink Grapefruit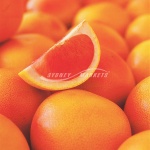 A good source of vitamin C. Among its many functions, vitamin C contributes to collagen which plays a role in healthy gums, teeth, bones, cartilage and skin.
A source of dietary fibre which is helps keep the intestine functioning normally.
The pink colour is due to carotenoids, including beta carotene which is converted to vitamin A in the body. This vitamin contributes to the normal functioning of the body's immune system.
One of the few sources of lycopene, a member of the carotenoid family that has been linked with normal health of the prostate gland in men.