Pineapple, leg ham & zucchini bruschetta
Pineapple, leg ham & zucchini bruschetta
Prep 15 mins | Cook 10 mins | Serves 4
2 slices fresh pineapple, peeled and halved
2 zucchini, cut lengthways into thin slices*
Olive oil spray
4 slices sourdough or wholegrain bread
1⁄3 cup reduced fat cream cheese
200g sliced leg ham
*Slice zucchini firmly using a vegetable peeler to get thicker strips.
Step 1 Place pineapple and zucchini in a bowl. Spray with oil and season with salt and pepper. Toss to combine. Heat a greased char-grill or a non-stick medium frying pan over medium-high heat. Cook pineapple and zucchini, in batches, for 1-2 minutes on each side until seared and just tender. Transfer to a plate.
Step 2 Spray bread with oil and char-grill on both sides until golden. Spread grilled bread with cream cheese, top with ham, zucchini and pineapple and serve.
Good for you ...
Pineapple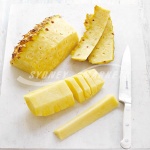 A good source of manganese, a mineral that contributes to the normal formation of bone and connective tissue.
A good source of vitamin C, which contributes to the normal functioning of the body's immune system.
Provides dietary fibre, which helps the intestine function normally.