Pineapple & chicken satay kebabs
Pineapple & chicken satay kebabs
Prep 25 mins | Cook 12 mins | Serves 4
1 large red capsicum, halved and deseeded
1⁄2 medium pineapple, peeled, quartered and cored
400g chicken thigh fillets, trimmed
270ml jar satay sauce
Olive oil cooking spray
Coriander leaves, sliced red chilli and steamed jasmine rice, to serve
STEP 1 Cut capsicum, pineapple and chicken into 4-5 cm pieces. Place into a large ceramic dish. Add 3⁄4 cup satay sauce and stir to coat. Cover and refrigerate for 30 minutes. Meanwhile, soak 12 x 18 cm bamboo skewers in cold water. Drain.
STEP 2 Thread capsicum, pineapple and chicken onto skewers.
STEP 3 Preheat a greased barbecue plate over medium heat. Spray skewers with oil and barbecue, turning occasionally, for 10-12 minutes until just cooked through. Place remaining satay sauce into a small heatproof bowl and microwave on high for 15-20 seconds until warm. Serve kebabs with satay sauce, coriander leaves, chilli and jasmine rice.
Good for you ...
Pineapple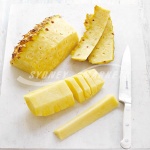 A good source of manganese, a mineral that contributes to the normal formation of bone and connective tissue.
A good source of vitamin C, which contributes to the normal functioning of the body's immune system.
Provides dietary fibre, which helps the intestine function normally.