Piel de sapo melon with serrano ham & burrata
Piel de sapo melon with serrano ham & burrata
Preparation 15 mins | Serves 6
1 Piel de Sapo melon
12 thin slices serrano ham
150g tub burrata*, drained
Extra virgin olive oil, for drizzling
Caramelised balsamic vinegar or glaze, for drizzling
A handful of basil leaves, for sprinkling
Step 1 Wash the melon. Halve lengthways, deseed and peel, removing about 3mm of the firm flesh near the skin. Slice the melon lengthways into 12 x 2cm thick slices (pop any leftover melon into a fruit salad).
Step 2 Wrap each melon slice with a slice of serrano ham. Place burrata into a small bowl. Arrange melon and burrata onto a serving plate. Drizzle with extra virgin olive oil and caramelised balsamic vinegar. Scatter with basil leaves, season with salt and pepper and serve.
* Burrata is a delicious Italian-style fresh cheese made with cow or water buffalo milk. It is sold in a tub and looks like a white ball, the outside is mozzarella and inside it is filled with a soft, string curd and cream. You can use fresh mozzarella or bocconcini if preferred.
Good for you ...
Piel De Sapo Melon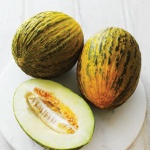 An excellent source of vitamin C, an essential vitamin for the body to fight infection. The darker the flesh, the higher its content of beta carotene, which the body converts to vitamin A. This vitamin is required for vision in dim light. Provides potassium, which is needed to balance sodium from salt.