Pear, rocket & prosciutto salad with goat cheese toasts
Pear, rocket & prosciutto salad with goat cheese toasts
Prep 15 mins | Cook 5 mins | Serves 4
This salad is great drizzled with caramelised balsamic vinegar.
1⁄3 cup walnuts, roughly chopped
2 just-firm pears (Corella, Packham or Beurre bosc varieties)
75g rocket leaves
8 thin slices prosciutto
extra virgin olive oil, for drizzling
Goat's cheese toasts
8 slices baguette bread
120g log goat's cheese
Olive oil cooking spray
Step 1 Place walnuts in a small non-stick frying pan. Cook over medium heat, stirring often, for 2–3 minutes until toasted. Remove from heat.
Step 2 Halve pears lengthways, core and thinly slice lengthways into thin wedges. Arrange pears, rocket and prosciutto on serving platter or plates.
Step 3 To make goat cheese toasts, preheat a grill on medium heat. Spread sliced baguette bread with goat's cheese. Spray with oil. Place on a grill tray and grill for 2–3 minutes until bread is crisp at the edges. Drizzle salad with extra virgin olive oil and serve with goat's cheese toasts.
Good for you ...
Corella Pears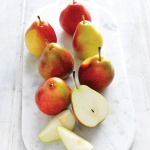 A good source of dietary fibre which contributes to normal laxation.
Provide vitamin C, which contributes to the normal functioning of the body's immune system.
Pears have a low GI (33-41), which means their natural sugars are broken down slowly for absorption into the bloodstream.