Pear, date & chocolate crumble
Pear, date & chocolate crumble
Prep 25 mins | Cook 50 mins | Serves 6-8
5 Beurre Bosc pears
1 lemon, juiced
2 tbs water
Butter, for greasing
10 fresh Medjool dates, deseeded and roughly chopped
125g dark chocolate, roughly chopped
Crumble:
¾ cup plain flour
¾ cup lightly-packed brown sugar
½ cup rolled oats
½ tsp ground cinnamon
125g chilled butter, cut into small cubes
Step 1 Peel, quarter lengthways and core pears. Roughly chop and place into a 20cm square baking dish. Sprinkle with lemon juice and water.  Gently toss to combine. Cover and microwave on high for 6-8 minutes until just tender. Remove and stand for 5 minutes. Drain pears. Wipe baking dish dry with paper towel then grease with butter. Combine pears and dates in the prepared dish. Set aside to cool.  
Step 2 Preheat oven to 180°C/160°C. To make crumble, combine flour, brown sugar, oats and cinnamon in a bowl. Rub in butter until mixture resembles coarse breadcrumbs. Top pear and dates with chocolate then sprinkle with crumble to cover. Bake for 35-40 minutes until pears are tender and crumble is crisp. Stand for 10 minutes and serve. 
Good for you ...
Beurre Bosc Pears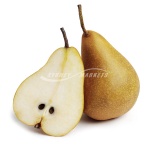 A good source of dietary fibre which contributes to normal laxation.
Provide vitamin C, which contributes to the normal functioning of the body's immune system.
Pears have a low GI (33-41), which means their natural sugars are broken down slowly for absorption into the bloodstream.