Pear, date & chocolate crumble
Pear, date & chocolate crumble
Preparation 25 mins + cooling time | Cooking 50 mins | Serves 6
5 (about 1kg) Beurre Bosc pears
1 lemon juiced
2 tbs water
200g fresh Medjool dates, halved lengthways and pitted
125g dark chocolate, roughly chopped
Vanilla ice-cream or Greek style natural yoghurt, to serve
Crumble topping:
¾ cup self-raising flour
1/3 cup maple syrup
1 cup rolled oats
1 tsp ground cinnamon
75g butter, melted
Step 1 Preheat oven to 180°C/160°C fan-forced. Peel pears, quarter lengthways and core. Place in a microwave safe shallow dish. Sprinkle with lemon juice and water. Gently toss to combine. Cover and microwave on high for 5 minutes or until just tender. Drain pears and place into a 6-cup (about 4-5cm deep) baking dish. Set aside to cool.
Step 2 To make the crumble topping, combine all ingredients in a bowl. Toss until well combined.
Step 3 Toss dates through the cooled pears. Sprinkle with chocolate then sprinkle with crumble topping. Bake for 40-45 minutes until pears are tender and the crumble is golden and crisp. Serve with vanilla ice-cream or Greek-style yoghurt.
Good for you ...
Dates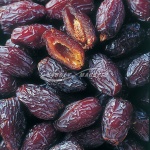 A good source of dietary fibre which is helps keep the intestine functioning normally.
Fresh dates are a source of vitamin C, which contributes to the normal functioning of the body's immune system.
Provide some folate, a B vitamin that is needed for normal formation of blood cells.
A source of potassium which may help balance the effects of the sodium from salt in the diet.