Pear bread & butter puddings
Pear bread & butter puddings
Prep 30 mins | Cook 45 mins | Makes 6
3 Beurre Bosc pears, peeled, cored and roughly chopped
2 tbs water
2 tbs lemon juice
Butter or margarine, for greasing and spreading
4 free-range eggs
⅓ cup caster sugar
1 tsp vanilla extract
300ml thickened cream
1¼ cups full-cream milk
3 thick slices raisin or brioche bread
1 tbs Demerara or raw sugar, for sprinkling
Step 1 Preheat oven to 160°C/140°C fan-forced. Place pears into a 6-cup capacity ovenproof dish. Drizzle with water and lemon juice. Cover and microwave on high for 5-7 minutes until just tender. Drain well.
Step 2 Grease 6 large teacups or ovenproof dishes with butter. Arrange pears in cups or dishes. Spread both sides of bread with butter or margarine and cut into quarters. Top pears with bread, overlapping slightly.
Step 3 Whisk eggs, sugar, vanilla, cream and milk in a bowl. Pour mixture over bread. Stand for 2 minutes. Sprinkle with sugar. Place dish in a baking pan and pour in hot water to come halfway up the side of the dish. Bake for 35-40 minutes or until set. Remove and set aside for 5 minutes. Dust with icing sugar and serve.
Good for you ...
Beurre Bosc Pears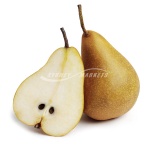 A good source of dietary fibre which contributes to normal laxation.
Provide vitamin C, which contributes to the normal functioning of the body's immune system.
Pears have a low GI (33-41), which means their natural sugars are broken down slowly for absorption into the bloodstream.